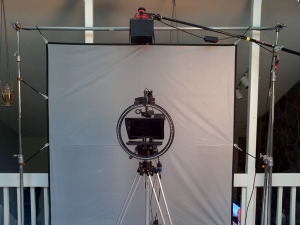 Retro-Reflective Backdrop Instructions:
You will need to hang your backdrop on a wall, or backdrop rig (two stands with a rigid pole across the top.)
Tension the backdrop with the supplied bungees and tarp clamps to minimize ripples and wrinkles. ONLY attach clamps to the black border materiel; NEVER to the retro-reflective backdrop itself.
DO NOT tension so tight that seams are stressed. You may gently steam (FROM THE BACK ONLY) to quickly remove wrinkles.
THE REFLECTIVE PROPERTIES ARE VERY FORGIVING. Retro-reflective material may be imperfect to the naked eye – blemishes are common.. Typically, seams, blemishes, ripples and wrinkles will all disappear when the LED light is engaged, providing for a fantastic chromakey.
You may wipe the background down using ONLY a clean, soft, fabric cloth, dampened with WARM WATER only. Chemicals and oils may damage the retro-reflective coating. DO NOT HANDLE WHILE EATING GREASY FOODS! DO NOT DRAG ON THE FLOOR. IF USING ON A FLOOR, MAKE SURE FLOOR IS CLEAN, DRY AND SMOOTH. MINIMIZE WALKING ON THE BACK DROP AT ALL TIMES.
If a portion of the backdrop material tears, or is stained or damaged beyond keying out, use the supplied repair material to cover the damaged area. We recommend fine particle, spray mount glue, applied only to the back of the repair piece, allowed to dry to tacky before placing on the backdrop. DO NOT allow slippage, or sliding which may cause glue become exposed on the edges; place carefully. Any glue exposed must be wiped off with warm water immediately, or you will have another blemish that may need covering.