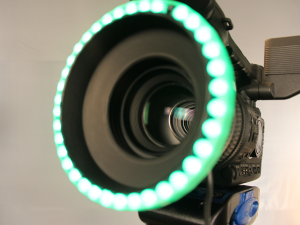 LEDchromaKEY.com was formed in 2011 to fill a void in the marketplace for an affordable, high quality LED light ring and retro-reflective background system for creating chromakey video effects. With budgets always a concern, price, function and quality are all far more critical in today's competitive production environments. Originally developed for in-house use by a national-level media production company with over 25 years experience in the NYC, HOLLYWOOD and SOUTHEAST markets, LEDchromaKEY.com offers this incredibly high performance low cost system to producers around the world.
Yes! Just like, if not better than, the more expensive light rings on the market today. Our competitive edge is simplicity, and volume purchasing. We manufacture the backgrounds in-house, controlling costs while buying the retro-reflective material in bulk. The best way to investigate the effectiveness of LEDchromaKEY.com's products, is to see it action, first hand!

EXAMPLE: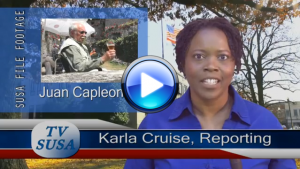 LEDchromaKEY.com will replace, at no cost, any components that fail within 90 days of receipt. LEDchromaKEY.com will further back our product for workmanship and function with a 12 month, pro-rated replacement warranty from the time of purchase. Warranty valid, provided there is no damage or obvious abuse, determined upon inspection by, and at the discretion of, LEDchromaKEY.com. Return shipping costs paid by customer. Product replacement shipping costs paid by LEDchromaKEY.com at standard rates.